Balloonies Farm Slot Review
The original Balloonies game from IGT was a surprise hit from the company. It, therefore, makes sense that they would follow it up with a sequel. Here we are three years later, and you will now be able to sink your teeth into the Balloonies farm slot machine.
How to Play Balloonies Farm Slot Machine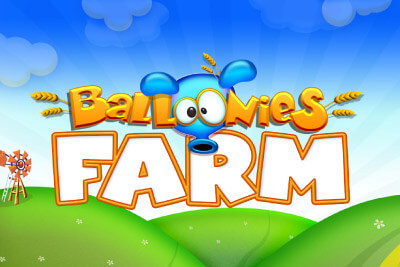 Balloonies Farm was released in April 2017. It is a video slot and can be enjoyed at most leading uk slot sites. There are 3 reels and 20 paylines for you to enjoy.
The house edge does vary. It can be from 3.6% to 7.1%, which is a rather wild house edge if we do say so ourselves. It never normally gets this high. Granted, you barely notice it, but it is still worth pointing out.
This is a medium volatility slot. The minimum bet is 20p. The maximum bet is £600, which is a high amount for a slot machine which looks so innocent!
The game is about balloon animals, and boy do they look cute. Now, we are not normally massive fans of colourful games. Well, not cartoon-style games, but you can't help but fall in love with the way that everything looks.
It is a relaxing experience. Couple this with the upbeat soundtrack and you can't help but smile at life. Honestly, it is clear that IGT have put a lot of effort into this game! It is like the original Balloonies, just better.
There are a few features in this game, which is one of the reasons as to why we recommend Balloonies so heavily. However, none of them are going to be particularly overwhelming in terms of complexity. In fact, if you play this game you are going to have a terrific amount of fun, even if you are a newer player in the world of slots.
Bonus Rounds & In Game Features
There are several features that you can enjoy in this game. Now, obviously you have your wild, however, in Balloonies Farm Slot, these wilds are awesome. They act as a substitute for every symbol in the game. However, each of them is tied to a specific multiplier. This will either be 2x, 3x or 5x. If you are lucky enough to get a wild in a winning payline, your wins will be multiplier by whatever is on in.
This game makes use of floating reels. Now, you have probably heard of cascading reels which allow symbols to fall into place. These are great! However, balloons don't fall, they float.
So, this is cascading reels in reverse. When a winning combination is formed, the symbols will disappear and balloons will float up. This means that there is the potential to win multiple times on a single spin.
There is also a free spins mode in this game. This is triggered when you get 3 of the red balloon bonus symbol. You will be able to select one of four different bonuses:
15 free spins with 2x wild multipliers
12 free spins with both 2x and 3x wild multipliers
9 free spins with 3x and 5x wild multipliers
5 free spins with 5x and 10x wild multipliers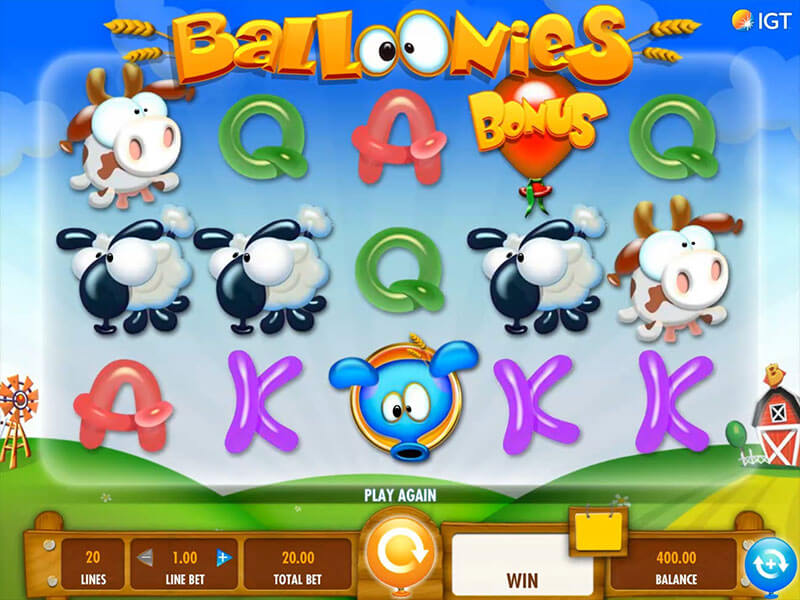 Balloonies Mobile Slot Machine
The Balloonies mobile slot, as you may have guessed, looks beautiful. This did not surprise all that much if we are perfectly honest. This is a company which is well-known for their ability to produce some rather fantastic mobile games. The thing that really strikes us about the Balloonies mobile slot is that it looks so colourful.
Like, this is the type of game that will put a smile on your face after a long, hard day at work! In fact, even if you are losing (we hope not!), you will still love the cutesy characters the game offers.
Is Ballooonies Slot Worth a Spin?
The Balloonies Farm slot machine builds upon its predecessor and it makes a fantastic game even better. We are slot machine enthusiasts. We play a lot of slot machines.
Far too many slot machines, to be honest. But, the Balloonies slot is well up there with our favourites. This is a game that we are confident we can show to both newcomers to the world of slots and experienced players, confident that they will be able to enjoy it.
If you want to check out the Balloonies farm slot machine, then you can head on over to any website which offers IGT casino games. Our team have put together a good selection of online casinos to play at. Why not check the list below?
Where To Play Baloonies Farm Online Slot
10 free spins on Iron Sky slot no deposit required. Full terms apply. 18+. If your balance drops to zero, CasinoVenetian will credit your account with cashback: 30%, Cashback will be credited 24 hours following your deposit.